Last updated: March 30, 2020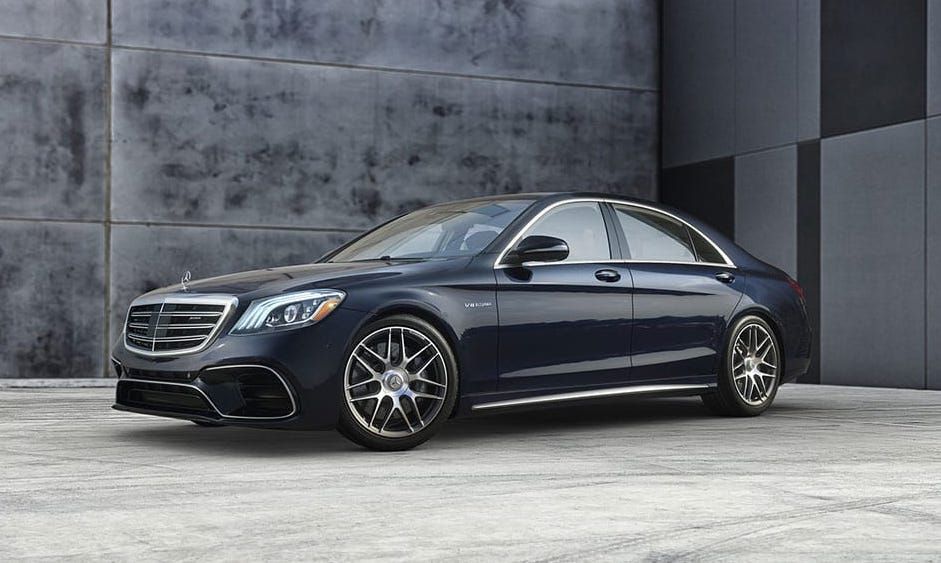 2020 Mercedes-Benz S-Class
In this analysis, I wanted to do a quick summary and sales comparison of the Audi A8/S8, BMW 7-series, and Mercedes-Benz S-Class. Let's start by looking at each of their US sales starting from the year 2005 to the latest year we have cumulative sales data on, 2019.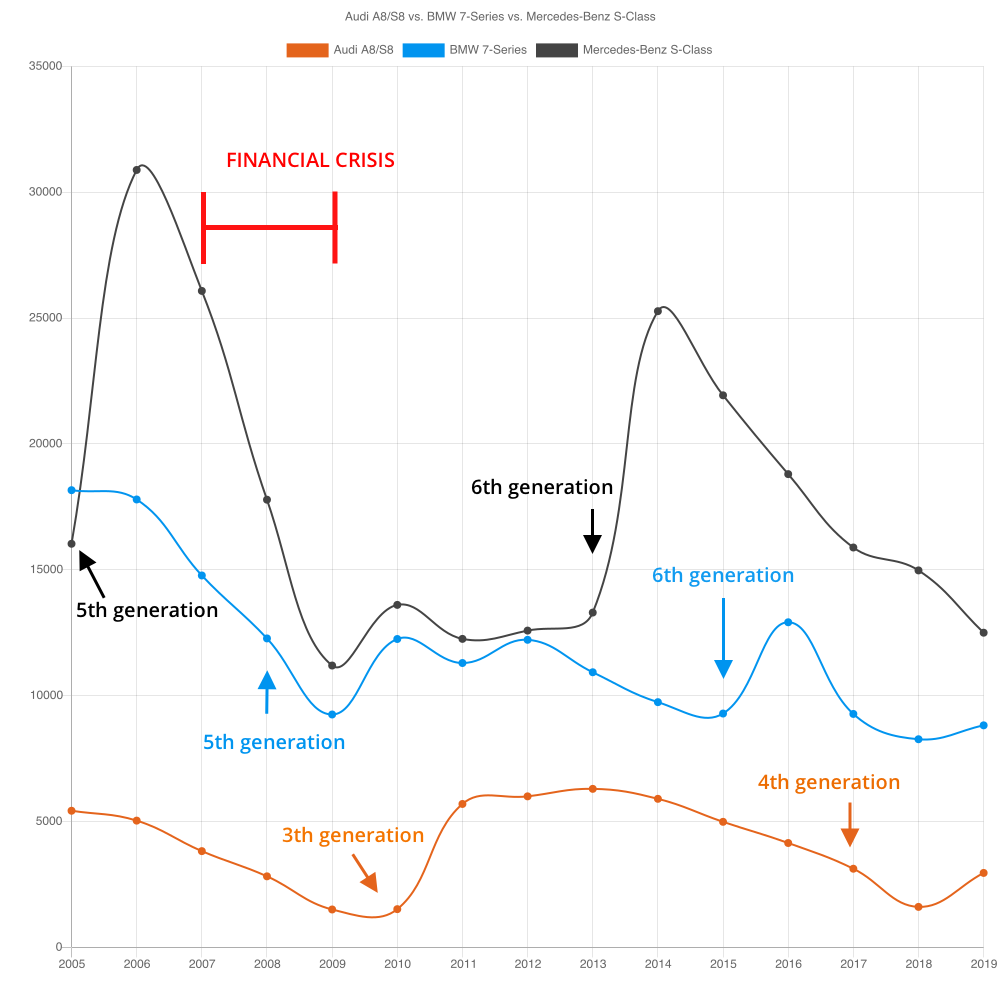 Year Sales Figures for Audi A8/S8, BMW 7-Series, and Mercedes-Benz S-Class
Wow, when we chart these numbers, we can see a few trends I want to explore more.
You can see the financial crisis and the deep impact it had from 2007–2009. Only in 2009 did we start seeing rebounds from BMW and Mercedes-Benz. For Audi though, they only started recovering from the financial crisis you could argue in 2010. With COVID-19 going around right now, we might look at the trends of 2007–2009 to see where the automotive industry is headed.
We see BMW nearly mirroring Mercedes-Benz in the years following the financial crisis. We then see Mercedes-Benz eating BMW's lunch in 2014 when they released their 6th generation model. Following this, BMW attempted to answer Mercedes-Benz with its 6th generation release. It wasn't enough to outsell them, but it's hard to beat what you can consider the gold standard in the segment, the S-Series.
The sixth-generation release from Mercedes-Benz was rewarded with a large sales spike (90% YoY growth) so we can conclude it was generally very well received, but looking onwards from 2014 for Mercedes-Benz we see year after year in declining sales. Enough sales thought to stay crowned number one in this segment. Speculation here, but declining sales can be attributed to being too complacent as the market leader in this segment after that spike in 2014 and therefore the lack of feeling the need to innovate for the years following.
In another showdown I did, we saw the Camaro being challenged by the Challenger (fitting name!) and the Challenger successfully moving from third place to second place (here). I point this out to highlight a successful sales takeover and how there could potentially be parallels to be learned from for BMW. Maybe a 1000 hp BMW 7-series halo car??? I'm kidding.
For manufacturers, I would say the theme here is to constantly innovate, but the innovation must resonate well with consumers. Again easier said than done. If it were easy, manufacturers would have done that day one and win the hearts and minds of consumers.
For Audi, there is not much to analyze. They have always been far behind their rivals and haven't posed a threat to either BMW or Mercedes-Benz. They just are cruising along at their pace selling whatever units they can move.
Final words:
Mercedes-Benz reigns king while BMW does pose a threat to that throne. Audi, on the other hand, seems to just be happy to just be there. It will be interesting to see what Mercedes-Benz plans as if this trend continues, BMW might outsell them. Mercedes-Benz seems to be stepping up to the plate and answering the call as there are speculations that the 7th-generation S-Class might be available early 2020 or later in 2021. Does the question then become if the 7th generation S-Class will see a large spike in sales?
I would caveat that with the fact that these last couple weeks with the COVID-19 pandemic have brought tremendous uncertainty to the industry. This pandemic might set back the whole industry for a couple of years and I could see it delaying the release of the next-gen S-Class. Only time will tell.
Units sold from 2005 to 2019 from: